Kilroy Professional Window Cleaning
Calgary's residential specialist. Not only do we offer satisfaction guaranteed window cleaning we also provide a full range of personalized service including  pressure washing, eavestrough cleaning, Christmas light installation, and snow removal in Calgary & area. We have fully equipped/trained crews ensuring your home always looks its best. We are also fully licensed and insured. 
WE OFFER
Regular maintenance plans and seasonal discounts are sometimes available as well as discounts for neighbours on the same day, call for details. At Kilroy, we keep the individual details of your home at hand so you will always have consistent personalized service from year to year, all year around.
WHY US
Kilroy brings 23 years of residential window cleaning experience to your home. We are also able to clean light fixtures, ceiling fans, and hard to reach areas as well as mirrors, skylights, and most older slider window bays. Call for a FREE QUOTE!
Kilroy Professional Window Cleaning is a locally owned and operated company that was founded in 1999 by Neil Stainsby. After Neil retired from the business in 2016, he was succeeded by his lead hand Joe Spurrier. Joe and Liz carry on the companies' values of high quality and integrity. Our goal is to provide a consistent and quality service that is delivered in a regular and timely manner that will allow our loyal customers to enjoy clean windows and complete home maintenance all year-round. Kilroy has completed over 30,000 jobs for our delighted customers in Calgary & area over the past 18 years. We are not the biggest window cleaners in town, we simply try to be the best.
TOP QUALITY WINDOW CLEANING
When you want to choose the best. Just know, this is what we do.
Window Cleaning Made Easy
Give us a call today to see how easy and painless it is to be looking through clean windows once again
At Kilroy we take the time and care to do it right so our customers stay happy.
EXTERIOR PRESSURE WASHING
PROFESSIONAL WINDOW CLEANING
At Kilroy we take the time and care to do it right so our customers stay happy. We are fully equipped to reach almost any residential window. Unlike some of the other cleaners, we get right up to most windows so we can wipe the frame and ensure the window is streak free. Our customers are encouraged to take advantage of our interior window cleaning service which includes cleaning the screens, tracks, and window sills as well as the high inside windows requiring ladders and other high access techniques. We also offer a construction clean service for new windows and/or paint removal. Call us now to see why our customers call us back year after year and recommend us to their friends.​
Kilroy brings 19 years of residential window cleaning experience to your home. We are also able to clean light fixtures, ceiling fans, and hard to reach areas as well as mirrors, skylights, and most older slider window bays. Call for a FREE QUOTE!
Eavestroughs are a very important part of your house. This system drains all the water away from your house keeping your foundation (and head) relatively dry preventing water damage. It is important to keep your eaves clean. Especially on older houses and ones surrounded by large trees. We not only clean out all the debris but also make sure that the downspouts are flowing and not plugged inside which sometimes involves taking the downspouts apart. We also keep our eye out and report any issues we may find while up there (like leaks, damage, or drainage issues). An emergency service is offered in the event you are flooding due to a plugged downspout.
When debris accumulates in the eavestrough and is left for an extended period of time that debris absorbs water which increases its weight dramatically. Combine this with the weight of the water that is being retained in the trough and continued stress of the increased weight will cause the eaves to pull away from the house as well as losing its drainage slope. Situations like this can lead to basement flooding and other problems. Kilroy offers regular maintenance plans tailored to your specific needs to prevent this from happening. We can also monitor your eaves any time in conjunction with other services.
Your house is a large investment and should be taken care of. Many people wash their cars all the time but do not consider washing their house. Regularly pressure washing your house will prevent dirt build up which can permanently stain your home and help retain your homes value. It will also help keep your windows cleaner for longer because there will be less dirt running down it when it rains. Almost all realtors will recommend washing your whole house inside and out before listing it. We have extra large hose reels for hard to reach areas and adjustable pressures and tips for most surfaces.​
Pressurewashing is good addition to a regular maintenance plan. Especially for those customers that are regularly exposed to accumulations from spiders, traffic exhaust, dust from construction activity and so on. These types of accumulations become harder to remove as time passes and will eventually leave stains. Kilroy does not add any solutions to the water as per city bylaw. Our technicians are able to use different pressures and patterns to deliver the desired result. We do not typically pressurewash a structure without at least doing the exteriors as Calgary's hard water will leave deposits that will lead to spotting once dry. These spots are very hard to remove especially when baked on by the sun. Which is why doing your windows with the garden hose is not a good idea.
HOLIDAY LIGHT INSTALLATION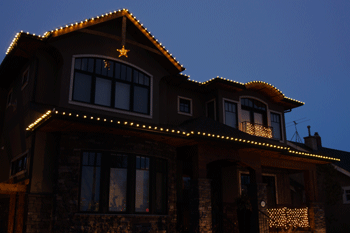 Due to many requests from our clients we offer Christmas light installation (on trees to) as well as the take down after the season. This completely personalized service can make your holiday season a little less stressful and dangerous. We can do what you like or come up with our own design. Give us a call!​
Charges are typically per foot according to type of installation and the type of lights including the cost of takedown. Kilroy does not recommend leaving lights up over the year as they tend not to weather well. It is also recommended for first time customers that you purchase a bit more lights than you think you might need so as to avoid delays getting your lights up. After the first time we put your lights up we keep the details of your job on file so next time all you have to do is leave your lights out and everything is taken care of! We are also able to provide lights and accessories if that is needed.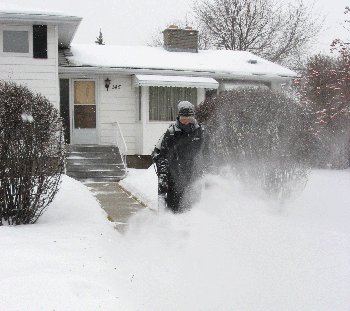 Kilroy is in its 15th season of professional snow removal in Calgary. Keeping sidewalks and driveways clear through the worst of what our unique winters have to offer. Contracts are offered from November to April. Snow removal generally takes place within 24 hours of the end of the last snowfall or in the event of a continuous snowfall, once a day until the snow stops. Call for more info and a free quote.​
For residential snow removal we don't use plows since many of our customers have nice brick or aggregate driveways as well as landscaping we would not want to damage. We find the back pack blowers and shovels work best, or if there's lots of snow we use snow blowers.  We do not offer fixed times of day for the visits as snowfalls and conditions vary. Generally there is a fixed rate for the entire season however Individual monthly contracts are also available for your vacation time. Call for more info and a free quote.

Kilroy does promise to complete a job to your 100% customer satisfaction within the limits of safety and reason. However, Kilroy cannot guarantee against such things as damage from previous cleanings or construction, excessive deposits of substances like silicone, varnish or the buildup left by extreme neglect This applies to screens and tracks as well. We also cannot guarantee against damaged window seals. Occasionally, a seal on a window or skylight will fail and the window will still appear dirty although all the residue has been removed. In this case the window needs to be replaced. Ask your Kilroy representative for more information.
​Kilroy's guarantee is valid for 7 days after completion not only against defects in workmanship, but incidents such as birdstike, egging, freak weather, etc. within that time period. We are not a large corporation and you have the personal promise of the owners Joe Spurrier & Liz Hadley, that any possible issues you might have will be dealt with in the most timely and efficient manner possible; even if he has to do it himself. Please contact the office immediately with any problems or concerns.